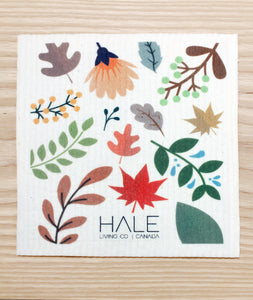 HALE reusable sponge cloths are a sustainable alternative to paper towels, sponges, and washcloths. Each cloth is not only gentle on your hands when cleaning, it also does not scratch glass or metal surfaces. Best of all, after 200 uses the cloth is 100% biodegradable and goes back to the environment – making your cleaning routine completely guilt free.
 Each of our original patterns are designed exclusively in Vancouver, BC. 
1 cloth replaces 15 paper towel rolls
Absorbs 20x its water weight
Fast drying, reduces odors
Perfect for kitchen & bathroom cleaning
Kids and pet fur friendly
17cm x 20cm per sheet
Made with 70% cellulose & 30% cotton
Materials sourced from Germany
Directions: Use the reusable sponge cloth in place of a sponge, wash cloth or paper towels. Add water to soften for household cleaning.
Care instructions: Machine washable up to 90°C/195°F in dishwasher or washing machine. Lay flat to air dry. Tumble dry safe on cool air.